Rage Against the Machine: Paul Ryan es la encarnación de la máquina que nuestra música ha denunciado durante dos décadas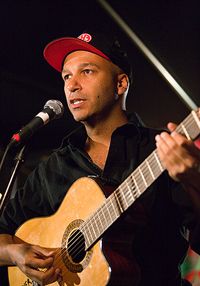 Después de la aseveración del periódico New York Times de que Paul Ryan, el candidato ultraderechista a la vicepresidencia, es un gran admirador del popular grupo roquero Rage Against the Machine (RATM) / Ira en Contra de la Máquina, la respuesta de su fundador y primera guitarra Tom Morello no se dejo esperar.
En una carta al sitio internet de la revista Rolling Stone (Agosto 16, 2012) Morello dijo que el amor de Ryan a RATM es "para la risa", porque "él es la encarnación de la misma máquina que nuestra música ha denunciado durante dos décadas. Charles Manson amaba a los Beatles pero nunca los entendió. El Gobernador Chris Christie ama a Bruce Springsteen pero no lo entiende. Y Paul Ryan no tiene idea de lo que su grupo favorito RATM es.
"Ryan dice que le gusta el sonido de RATM pero no sus letras. Bueno, a mi no me importa ni el sonido ni la lírica de Paul Ryan. A él le puede gustar el grupo que quiera, pero la visión que lo guía - de darle mas ingresos económicos al 1% - es extremista y antagónico al mensaje de RATM."
Formada en Los Angeles, California, Rage Against the Machine es una banda de rock inspirada por la instrumentalización del estilo heavy metal y el rap. En el 2010 se informó que el grupo vendió mas de 16 millones de discos alrededor del mundo.
Morello se pregunta cual será la canción favorita de Ryan. "¿Será en la que condenamos el genocidio de los nativos americanos? ¿En la que fustigamos al imperialismo estadounidense? ¿Nuestro cover de Fuck the Police? ¿O es en la que llamamos al pueblo a tomarse los medios de producción?, ¡Qué excelentes opciones para poner a todo trapo en los mítines de los Jóvenes Republicanos!"
Morello dice entender la "ira" de Ryan. Pero es "una ira en contra de la mujer, rabia en contra de los inmigrantes, una ira contra los trabajadores, una furia en contra los gays, una rabia contra los pobres, una rabia contra el medio ambiente. Básicamente, la única cosa a la que él no le tiene furia es a la élite privilegiada que tiene al frente y que la adula para sacarles contribuciones a su campaña electoral."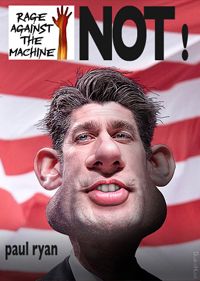 Morello, quien fundó RATM en 1991, agregó que los súper ricos tienen que defender la acumulación de sus riquezas porque "en Estados Unidos, todas las noches millones de niños se van a la cama hambrientos... Así, cuando se miran en el espejo, ellos se convencen de que esas personas no merecen. Son... inferiores. Esa desenfrenada furia contra aquellos que tienen menos es la piedra angular del dúo Romney-Ryan.
"Mi esperanza es que tal vez Paul Ryan sea una espinilla. Tal vez RATM sembró algunas ideas sensatas en este pedazo de extrema derecha. Si es elegido, quizás liberaría a Leonard Peltier. Tal vez le de apoyo militar a los Zapatistas. Tal vez llene la prisión en la Bahía de Guantánamo con los criminales de las corporaciones que están financiando su campaña – para torturarlos los siete días de la semana con música de RATM. Esa puede se una posibilidad. Pero no apostaría a ella," finalizó Morello.
Fernando A. Torres
Desde EEUU. Agosto 2012
Fuente:
http://www.g80.cl/noticias/columna_completa.php?varid=15955